abba Rambla hotel
Barcelona
Early check-in subject to availability and complementary bottle of water
with your reservation on our Official Website

Rambla del Raval, 4C rambla@abbahoteles.com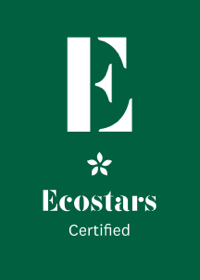 abba Rambla hotel is a three-star hotel located on the new promenade that is parallel to Las Ramblas, just a few minutes from the famous Avenida de Barcelona, just behind the Gran Teatro from the Liceu and near the Boquería Market.
abba Rambla hotel offers modern and innovative decoration , along with the widest range of services so that each guest can enjoy their stay in Barcelona in an unforgettable way.
Located in the historical center of the city, in the Ciutat Vella district and near Las Ramblas, the hotel provides an excellent location, where you can get to know the most touristic places of Barcelona, besides having excellent communications with the Airport.
Nº Reg. Oficial: HB-4380
X
Ecostars® is a specific sustainability certification for hotels that awards eco-stars based on a hotel's environmental impact per stay.Ecostars is a member or is recognised by international organisations such as the World Tourism Organization (UNWTO) and the Global Sustainable Tourism Council (GSTC) and national organisations such as the Spanish Tourism Board.
Reserve
Best price guaranteed
Free premium Wi-Fi
Exclusive rates for abbantage members
5% in abbantage points 1point = 1euro
Best location
Rambla del Raval, 4C 08001
rambla@abbahoteles.com
See map
Hotel info
Check-in

14:00

Check-out

12:00
Smoking policy
Smoking is not permitted except in conditioned areas
Parking at the hotel
Exclusive for clients
Pet policy
Peds is not permitted
Located in the Gothic neighborhood and parallel to Las Ramblas, abba Rambla hotel has modern and contemporary rooms with a bar, parking, interior terrace, and free wifi. It's excellent location and personal unforgettable detail makes it the ideal option for visiting the center of this historic city and to also enjoy the Barcelona Port, which is just a few meters away.
See map